The Coffee Mom's Devotional
This is a great book for busy Moms. It is written by Celeste Palermo, a Christian Mother of two girls.
It features 30 brief devotionals filled with humorous coffee puns and latte for the soul. You know it is written by a fellow Mom and that makes it all the better to read and receive. Who better to minister to a Mom then another Mom??
Each devotion is only about 2 pages long. However, packed with a spiritual punch that will light your fire better than any espresso shot Starbucks has to offer!
Another great feature The Coffee Mom's Devotional
has is at the end of each devotional there are a couple thought provoking questions that tie in with that devotion. There are also a few minor assignments for further reflection and study.
I think this is an awesome book and it is filled with lots of humor and truths from God's Word that get your motor revving way better then a cup of joe!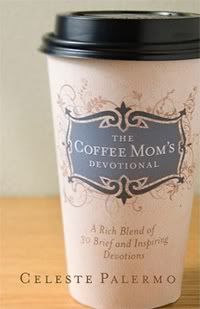 OK, so since this is SUCH an AWESOME book for today's busy Moms, I though Moms of Faith should give away a copy to one of our readers!
The Coffee Mom's Devotional Give a Way
Want this great devotional?
Simply leave a comment to this post letting us know why you should win this devotional.
For additional entries into The Coffee Mom's Devotional
Give a Way you can do any or all of the following:
1. Share the Give a Way on Twitter. It should read: @Faithful_Mommie The Coffee Moms Devotional Give a Way!!
2. Follow me on Twitter @Faithful_Mommie
3. Add Moms of Faith to your blogroll.
4. Subscribe to one of our Newsletters.
5. Join our Message Boards or Social Network…or both!
Please Note: You need to leave a comment to even enter the contest. All other things are optional and DO require you to let us know what you have done for additional entries.
Official Rules: You must be at least 18 and put a VALID email in the email section of the comment box. This is so we can reach you if you win!
Contest Ends: June 5, 2009. Winner will be announced on June 10.
Good Luck!