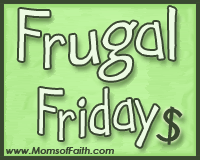 We would LOVE for you to participate in this weekly blog carnival! Click Here for more information! PLEASE READ and follow the rules!
OK, on to my tip for this week…
Clip Coupons
Sure, clipping coupons takes a little time, however, if you add up your savings over a few months you will see the value. You can also get your kids involved with the coupon clipping, if time is a factor. To make the most of your coupon savings, look for current sales when making your meals and use any coupons you have to go WITH the sale price.
Do you have a frugal tip? Please let us know…simply read the rules to join Frugal Fridays and jump on board. They are pretty simple. :)