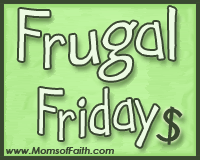 All are WELCOME to participate in this weekly blog carnival, Frugal Fridays! Click Here for more information!
NOTE: PLEASE read the rules. We have a few who are not posting to the ACTUAL TIP post on their blog. I need you to post your link to the actual TIP POST…NOT the main page of your site. THANK YOU!! ALSO, please include the TITLE of your tip next to your name in Mr. Linky!

OK, on to my tip for this week…
Homemade Gifts
Money is tight for most people these days. A great way to save money AND show others you care about them is to MAKE a homemade gift for them. Holidays, birthdays, special occasions…do it homemade. You can make cookies, baking mixes, cards, mini scrapbooks, bread, soap, candles, Christmas ornaments, photo frames, herbed oil, gifts in a jar, knit something, pot holders, jewelry, tye dye, picture calendar, plant a tree, and SO much more!
Homemade gifts are not only easier on the wallet, they show the people you love just how special they are. Time is the greatest gift you can give anyone!
Do you have a frugal tip? PLEASE share! Read how, here.