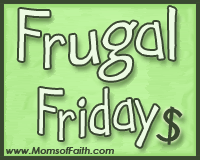 Moms of Faith will now host Frugal Fridays weekly blog carnival. :)
What do you need to do to participate?
Share a FRUGAL article or a quick "this is what I do" tip. You do not need to be elaborate. It is really up to you. The only requirement is that you make is a beneficial to all FRUGAL (money saving) tip!
If you have a blog – Place the image (or just link) above in a FRUGAL post on your blog. Link it to the CURRENT Frugal Friday Post. Then, fill in the Mr. Linky at the bottom of the CURRENT Frugal Fridays post with a link to YOUR frugal post. (the link benefits you…it is a back link for you!)
If you do not have a blog – STILL fill in the Mr. Linky…even if you do not want to leave a link. Just put your name. Then, leave a reply to the current Frugal Friday's Post with your frugal tip.
IMPORTANT Stuff!
ONLY family friendly sites. No crazy sites with porn, hate, etc. YOU know who you are.
Please only leave a link if you have written a Frugal Post. I will delete all others.
ONLY link to your FRUGAL FRIDAYS post…NOT main page of site. We want readers to FIND the frugal post. Plus it gives you a relevant back link. I will delete you if you cheat.
Please mention MOF Frugal Fridays in your post, and link back to THIS page. You can use the image above if you want. However, using the image is not required.
Enter your Frugal Fridays Post Title next to  your name. NO more than FIVE words.
Ex. Lara – (Clipping Coupons)
I will delete any posts or links that are not appropriate for this carnival OR for any other reason I feel is necessary.
This weekly blog carnival is meant to be FUN and helpful to you and others. It is meant to help us ALL save money!