Marley & Me – Movie Review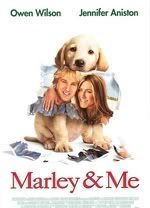 Movie Title: Marley & Me
Rating: PG
Director: David Frankel
Staring: Jennifer Aniston; Owen Wilson; Alan Arkin and Eric Dane
Category: Drama/Comedy
Moms of Faith Rating: 9 out of 10
Intro: Marley & Me is a heartwarming film about family, marriage, love and life with a great dog!
Review: I was warned by a few friends not to see Marley & Me because it is sad…I didn't listen to the naysayers, and I am glad. Sure, it is a tearjerker in some areas. However, overall it is a very funny and heartwarming movie experience.
With the encouragement of a single friend from work, John Grogan (Owen Wilson), decides to take his wife to pick out a puppy when she begins to show signs of wanting to add a baby to their lives. He hoped it would get her mind off having babies for a bit. Unfortunately, he did not plan for what he wound up with…Marley is a wild, rambunctious, lovable high maintenance dog.
Marley soon wins the heart of it's owners…although it is a love/hate relationship at times…(especially for Jenny Grogan after she begins to have babies!)…LOL.
There is a warmth to this film that families will love. Marley even experiences life with the Grogan's growing family.
There is mild crude humor and language that may require a chat after film…for the little viewers in your family. There are also some dramatic scenes that may be uncomfortable and confusing for smaller children.
Conclusion: Marley & Me is a laugh out loud and deeper than expected film. Do not be deterred by some tears…yes…you WILL cry. I rarely cry when I watch movies. This one got me. So, get your tissue box ready. However, you will laugh as well….a lot!
Copyright © Lara Velez, Moms of Faith, All Rights Reserved