Ghosts of Girlfriends Past – Movie Review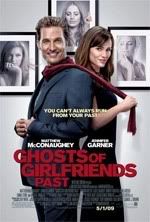 Movie Title: Ghosts of Girlfriends Past
Rating: PG-13
Director: Mark Waters
Staring: Matthew McConaughey, Jennifer Garner, Michael Douglas, Breckin Meyer, Emma Stone and Noureen DeWulf
Category: Comedy, Romance
Moms of Faith Rating: 0 out of 10
Intro: A disappointing romance based off of an old classic.
Review: Well, this is not the first time I have been disappointed in a Matthew McConaughey film. Lately, the only reason I even give his films a look is because I have a teenage daughter who thinks he is "hot." LOL! Ah, youth. I am happy to say, that even though she thinks the star is easy on the eyes, she was very disappointed in the film as well. It was just nasty. Very sexual and did not have a positive view of marriage. Sure, monogamy had it's pluses. However, "marriage" was not a goal.
On the negative side: Sadly, most of this review will be right here on the negative side. Let me start with the sexual stuff. Oh, and I am only tapping the surface. There are TONS of sexual content in this film. I mean the film itself is one big sexuality piece. Sex is VERY casual in this film.
Conner (Matthew McConaughey) leaves Jenny (Jennifer Garner) after he does the bedroom tango with her. She is left alone and sad. Oh, and of course the sex was out of wedlock as was all the sex shown on this film.
Half naked women were seen in a photo shoot.
Tons of sexual language and innuendos throughout the film. Some quite shocking and definitely NOT for children to hear. It was hard enough having to go through all the unfortunate discussions after watching the film with my 16 year old.
Conner grabs the breast of a woman who just happens to be his brother's future Mother in Law. Speaking of the wedding; all of the bridesmaids clamor to have sex with Conner. Two of them already had him and just want him again.
Really, I do not need to go any further as far as the sexual content. Like I said, this is just the tip of the iceberg. The whole film is over run with sexuality.
Language was pottyish and God's name is misused about 15 times. Once combined with da*n. There were also several bit**, as* and hells as well.
Conner's Uncle Wayne (Michael Douglas) takes him to a bar at 14 and allows him to drink. During the bar scene he also teaches him to look at women as objects to be conquered for sexual gratification. Very sad scene in my opinion. Of course, later in the film, his uncle does admit that living in the fast lane was not all it was cracked up to be…sad he had to be dead to realize it…
In the end, Conner gets the girl…however, he does not marry her. Hmmm.
Conclusion: Unfortunately, I cannot endorse this film on any level. It is a terrible film and will leave you feeling icky. For me, the only positive thing I got out of it was seeing my 16 year old daughters reaction and realization of what this world is and why it is in desperate need of a Savior. Seriously, don't waste your time on this one. You will regret it and wind up praying after the film of you see it. LOL.
Note: I believe this is my only my second zero rating. That's how bad it was.
Copyright © Lara Velez, Moms of Faith, All Rights Reserved